Great south tour
---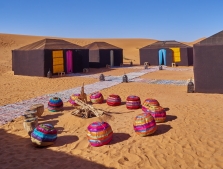 Program
Day 1 : Casablanca/Marrakech Arrival at Mohamed V airport. Sightseeing tour of Casablanca. After lunch, departure to Marrakech. Dinner and overnight at the hotel.
Day 2 : Marrakech/Ouarzazate/Zagora Breakfast at the hotel. Departure to Ouarzazate via Tizin Tichka, one of the most beautiful roads in Morocco. Visit of Kasbah Ait Ben Haddou, classified as part of the world heritage by UNESCO. After Lunch, Continue on to Zagora. Dinner and overnight at the hotel.
Day 3 : Zagora/Tamegroute/Rissani/Merzouga Breakfast at the hotel. After visit of Tamegroute, departure to Rissani, the capital of Tafilalet via Tazzarine and Alnif. Free lunch. Departure to Merzouga via Erfoud, an oasis town in the Sahara Desert. Traditional Berber dinner and overnight under nomad tent
Day 4 : Merzouga/Tinghir/Ouarzazate Morning awakening to assist the wonderful sunrise over the dunes of Merzouga. After breakfast, departure to Ouarzazate via Gorges of Todra, Tinghira and Kalaa de M'Gouna (capital of roses). Dinner and overnight at the hotel.
Day 5 : Ouarzazate/Marrakech Breakfast at the hotel. Visit the Kasbah of Tifoultoute, and Kasbah of Taourirte. After lunch, departure to Marrakech via Taddert and Tizin Tichka. This route offers beautiful panoramas. Dinner and overnight at the hotel.
Day 6 : Marrakech Breakfast at the hotel. Full day visit of Marrakech. Dinner and overnight in Marrakech.
Day 7 : Marrakech/Casablanca After breakfast, transfer to Mohamed V airport in Casablanca for the flight of your return End of our services
Included in the price:

Accommodation at 4* hotels or riads on half board basis
Private transport
Government-certified tour guide
1 night under tent in Merzouga, double occupancy on Half Board basis
Transfer in 4x4 cars to the dunes in Merzouga
Camel ride to enjoy sunset or sunrise in Merzouga
Not included : beverages, monument entrance fees, travel and medical insurances, tips, extra
NAME: Kingdom of Morocco
AREA: 446,550 km2
POPULATION: 32.3 million inhabitants
CAPITAL: Rabat
NATURE OF THE REGIME: Constitutional Monarchy
HEAD OF THE STATE: Mohammed VI
OFFICIAL LANGUAGES: Arabic and Amazigh (Berber)
CURRENCY: Moroccan Dirham (MAD)
RELIGION: Islam (98.7%)
AVERAGE MONTHLY INCOME: $ 246 per month per person (2012)
MAIN RESOURCES: Phosphate and its derivatives (27% of exports), but also on agri-food products (agriculture employment almost half of the active population) and textiles, tourism and handicrafts. Morocco imports industrial equipment (transport equipment, telephony, data processing). Morocco is the fifth largest economic power in Africa.
GEOGRAPHY: Morocco is a country in north-west Africa. Its long coastline overlooking the Atlantic Ocean ends beyond the Strait of Gibraltar on the Mediterranean.
CLIMATE: The Moroccan climate is both Mediterranean and Atlantic, with a warm dry season and a cold, wet season, with the end of the hot season marked by the October rains. In the interior, the climate varies according to the altitude. The summers are hot and dry, especially when the hot wind or chergui blows, summer wind coming from the Sahara. In general, the climate in Morocco can be divided into seven subareas, determined by the different influences that the country undergoes: oceanic, Mediterranean, mountainous, continental and Saharan influences.
FAUNA AND FLORA: Morocco still has an important wildlife, which testifies to the traditional sustainable practices and the careful management of the resources, transmitted from generation to generation. Today, Morocco has 40 different ecosystems providing a habitat for many endemic species, including rare plant and animal species.
SHOPPING: Whether it is to find works of art or to buy spices and slippers, the Moroccan medinas have been, for centuries, unmissable appointments. Everywhere you will find spices, fabrics, pottery, leather, silver jewelery ... but some regions have their specialties: Chefchaouen (woolen covers and fabrics), Tangier (silver jewelry and antiques), Meknès, Taroudant and Tiznit (Silver jewelery), Fez El-Bali (leather, ceramics), Essaouira (objects made of raffia and wood).
GASTRONOMY: The Moroccan cuisine is influenced by Morocco's interactions and exchanges with other cultures and nations over the centuries. It is typically a mix of Mediterranean, Arabic, Andalusian, and most importantly, Berber cuisine with a tiny European and Subsaharian influence. The most famaous dishes worth to try are Tagines, Harira, Pastilla, the Couscous...
Booking information of the package tour
---
840.00 (EUR)
760.00 (EUR)
Date of departure : 2020-03-30
---
Other suggestions
Gallery