Marrakech incentive program
Morocco has a fantastic infrastructure supporting MICE, including modern international airports across the country, a wide variety of top-quality accommodation, fascinating historical and archaeological sites, a delicious cuisine, great weather, stunning scenery and warm hospitality for which the country is so famous. Hibiscus travel has an expert and knowledgeable team who can provide high-quality service and manage everything from meetings and congress to incentives and events
---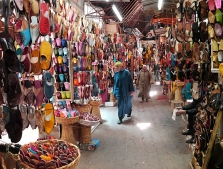 Program
Day 1 : Arrival

Transfer to 5* hotel or riad.

Departure for a tour to explore the exotic souks and Djama El F'na Square.

Authentic gastronomic dinner at a Moroccan palace with an orchestra playing Arab Andalusian music.
Day 2 : Meeting & Leisure Activities

A.M: work session, meeting room at disposal.

Buffet Lunch at the hotel.

P.M: one of the following activities :

A horse carriage tour to visit Marrakech Gardens.

Dinner in the heart of Marrakech palm grove under traditional Caidal tents.
Day 3 : The highlights of Marrakech

After breakfast, departure by 4x4s towards the Atlas Mountains.

After barbecue lunch, team building activities.

Gala dinner at a typical restaurant with belly dance show.

A Moroccan hand craft gift will be given to the entire group.
Day 4 : Departure

Buffet breakfast, assistance and transfers to the airport.
What's included :
3 nights' accommodation in 5 stars hotel
Personalized welcome at the airport
Welcome mint tea upon arrival at the hotel
Buffet breakfast daily
2 buffet lunch at the hotel
3 dinners at outside venues
½ day sightseeing tour of Marrakech
½ day leisure activity
Atlas Mountains Excursion in 4 wheel drive car including lunch & 3 team building activities
Transfer in A/C coaches
English speaking guide assistance
Taxes and services
NAME: Kingdom of Morocco
AREA: 446,550 km2
POPULATION: 32.3 million inhabitants
CAPITAL: Rabat
NATURE OF THE REGIME: Constitutional Monarchy
HEAD OF THE STATE: Mohammed VI
OFFICIAL LANGUAGES: Arabic and Amazigh (Berber)
CURRENCY: Moroccan Dirham (MAD)
RELIGION: Islam (98.7%)
AVERAGE MONTHLY INCOME: $ 246 per month per person (2012)
MAIN RESOURCES: Phosphate and its derivatives (27% of exports), but also on agri-food products (agriculture employment almost half of the active population) and textiles, tourism and handicrafts. Morocco imports industrial equipment (transport equipment, telephony, data processing). Morocco is the fifth largest economic power in Africa.
GEOGRAPHY: Morocco is a country in north-west Africa. Its long coastline overlooking the Atlantic Ocean ends beyond the Strait of Gibraltar on the Mediterranean.
CLIMATE: The Moroccan climate is both Mediterranean and Atlantic, with a warm dry season and a cold, wet season, with the end of the hot season marked by the October rains. In the interior, the climate varies according to the altitude. The summers are hot and dry, especially when the hot wind or chergui blows, summer wind coming from the Sahara. In general, the climate in Morocco can be divided into seven subareas, determined by the different influences that the country undergoes: oceanic, Mediterranean, mountainous, continental and Saharan influences.
FAUNA AND FLORA: Morocco still has an important wildlife, which testifies to the traditional sustainable practices and the careful management of the resources, transmitted from generation to generation. Today, Morocco has 40 different ecosystems providing a habitat for many endemic species, including rare plant and animal species.
SHOPPING: Whether it is to find works of art or to buy spices and slippers, the Moroccan medinas have been, for centuries, unmissable appointments. Everywhere you will find spices, fabrics, pottery, leather, silver jewelery ... but some regions have their specialties: Chefchaouen (woolen covers and fabrics), Tangier (silver jewelry and antiques), Meknès, Taroudant and Tiznit (Silver jewelery), Fez El-Bali (leather, ceramics), Essaouira (objects made of raffia and wood).
GASTRONOMY: The Moroccan cuisine is influenced by Morocco's interactions and exchanges with other cultures and nations over the centuries. It is typically a mix of Mediterranean, Arabic, Andalusian, and most importantly, Berber cuisine with a tiny European and Subsaharian influence. The most famaous dishes worth to try are Tagines, Harira, Pastilla, the Couscous...
Package price
---
610.00 (EUR)
560.00 (EUR)
---
3 nights INCENTIVE package ( from 20 pax)
Per person sharing Twin occupation: Starting from 560 EURO
Other suggestions
Gallery